I'm highlighting a personal branding photography session with Nurse Lena. In today's fast-paced world, personal brands has become increasingly important for professionals in all industries. It serves as a way to showcase skills, expertise, and values, while creating a unique identity that resonates with your target audience.
Personal Brand goes Beyond Self-Promotion
For Registered Nurse Lena, personal brand goes beyond self-promotion. It's about empowering and mentoring other nurses, building bridges of knowledge and support within the nursing community.
For her next session, Lena wanted to continue her personal brand session and focus on inspiring nurses to feel comfortable, feel confident, and sharing invaluable insights with her mentoring nurses.
Lena's branding photo session revolved around her continued mission of empowering nurses through mentorship.
As a seasoned nurse herself, she understands the challenges that nurses face and the importance of guidance and support. Lena's mentorship program has an absolutely ah mazing process, enabling aspiring nurses to navigate their careers with clarity and confidence.
By incorporating her mentorship program into her personal brand, Lena reinforces her commitment and vision to uplifting others in the nursing profession.
One of the key elements of Lena's personal brand is her ability to exude professionalism while maintaining a casual and relaxed vibe. This unique blend of qualities sets her apart and makes her approachable to both her clients and her mentees.
During her branding session, we wanted to make sure that her beautiful photos reflected this balance in her life. From capturing her scrub look with a warm smile, to showcasing her in a more relaxed and casual setting.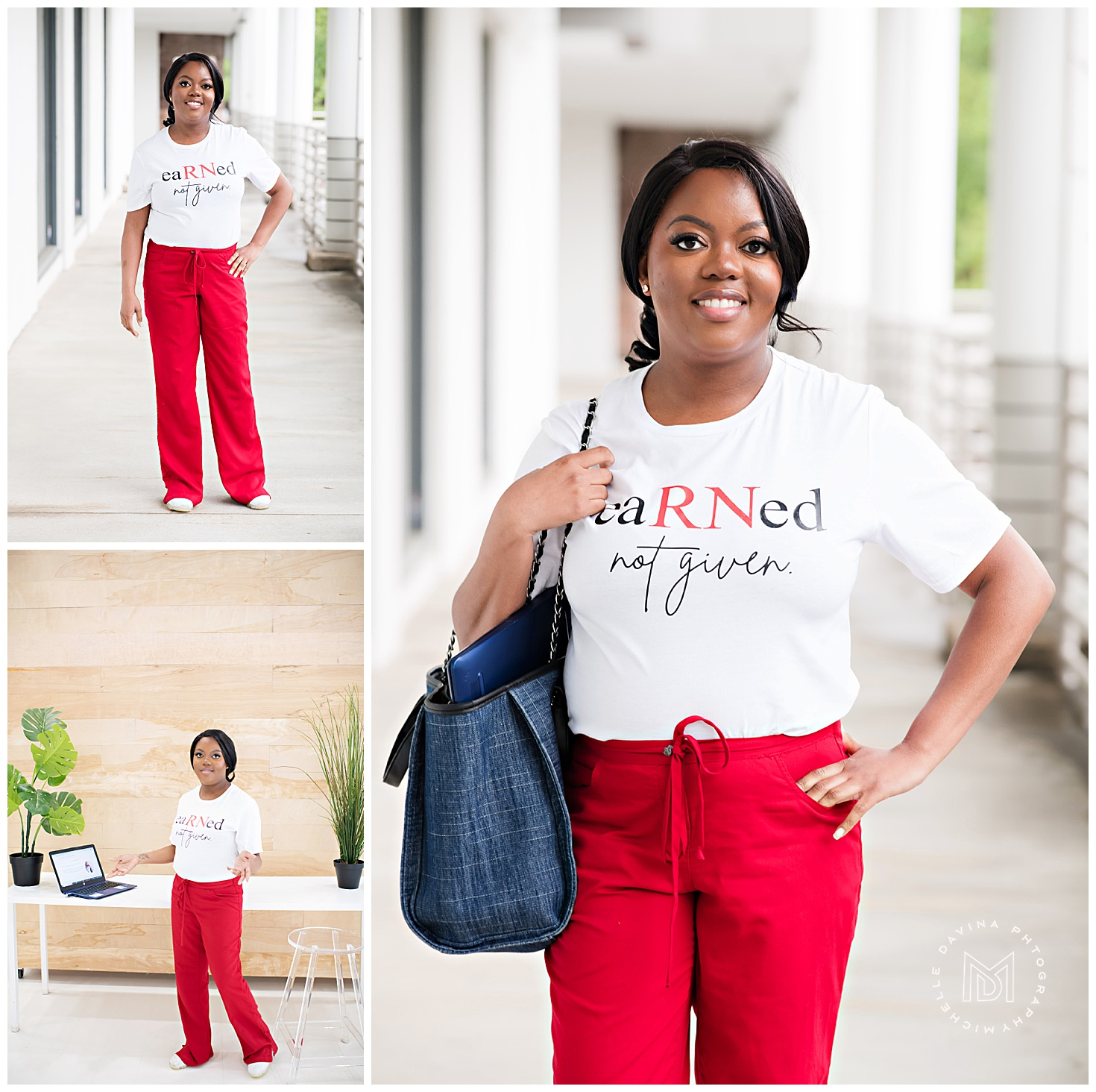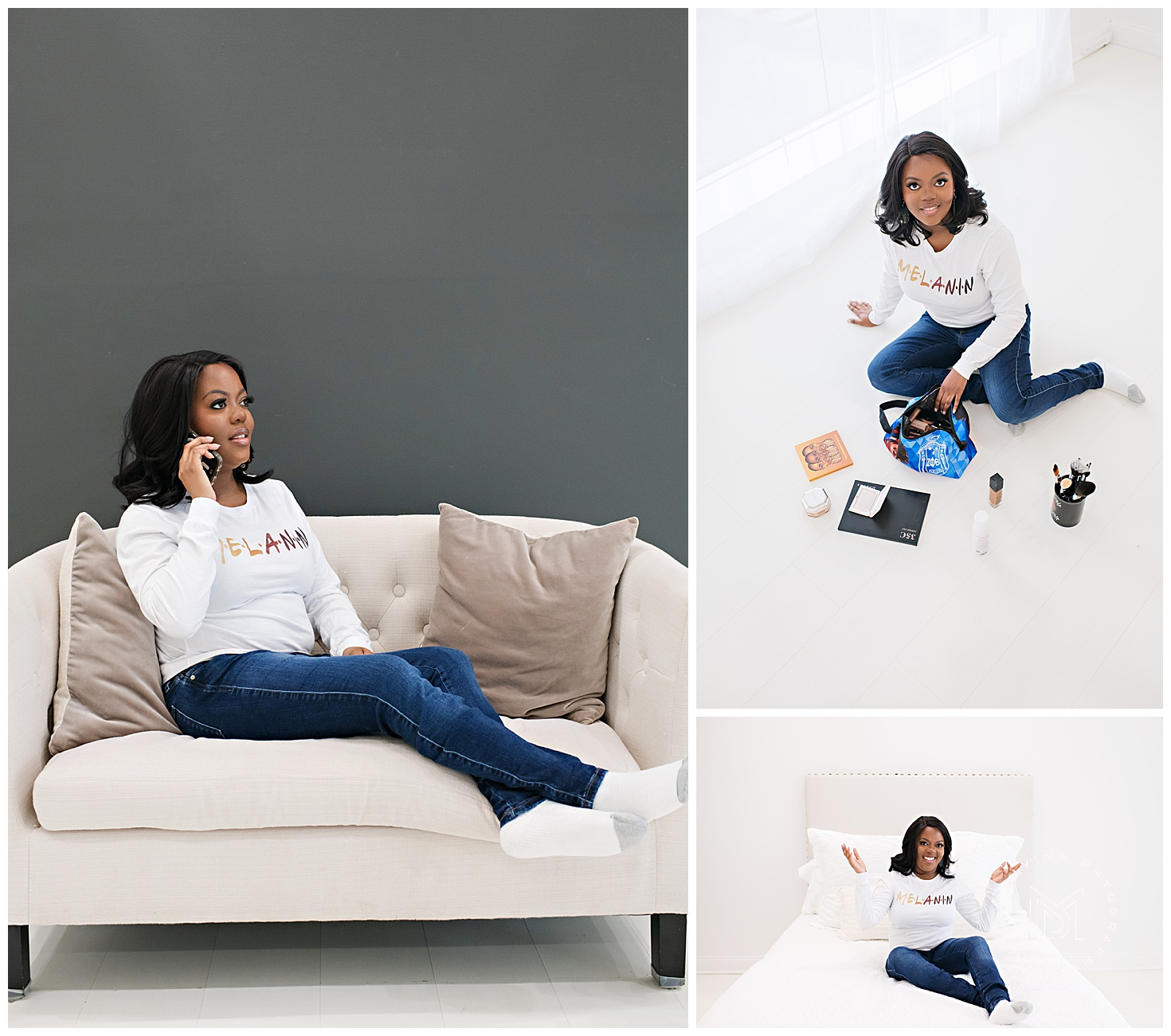 Nurse Life
Nursing can be a demanding profession, often accompanied by stress and anxiety. Lena's personal journey of overcoming these challenges serves as a source of inspiration for nurses seeking to excel in their careers.
When it comes to nursing, comfort is key. Nurses spend long hours on their feet, making the choice of footwear is crucial for their well-being. Lena wanted to be sure we included her favorite footwear that provides both comfort and style.
Highlighting the importance of investing in quality footwear and providing practical recommendations, Lena empowers nurses to make informed choices that would support their long-term comfort and health.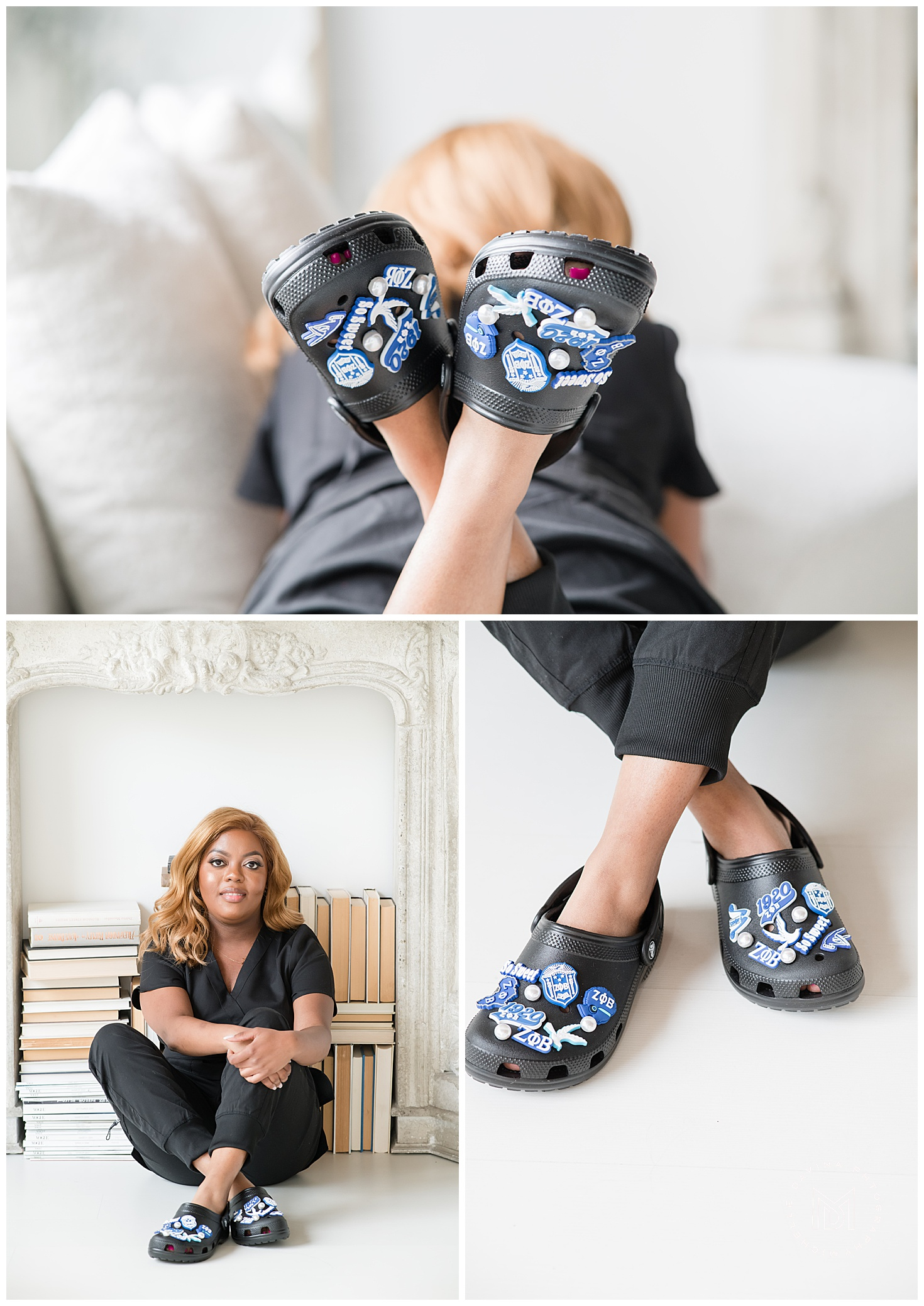 Mentorship
Mentorship plays a pivotal role in the entire experience of a nurse's professional growth. Recognizing this, Lena shared a list of insightful questions that aspiring nurses should ask their mentors.
Lena also emphasized the importance of seeking guidance from experienced professionals and leveraging their knowledge and expertise. By fostering a culture of mentorship, Lena aims to create such a vibe that is a supportive environment where nurses can thrive and reach their full potential.
In addition to her dedication to nursing, Lena has a furry baby named Mason who brings her joy and comfort. During her photo session, Lena wanted to include Mason in some of the images to capture the significance of pets as sources of stress relief for nurses.
Mason's presence symbolized the importance of finding solace and joy outside of work, which ultimately contributes to a nurse's well-being and ability to provide compassionate care. I have to say that Mason was the best model and assistant at Lena's photo shoot.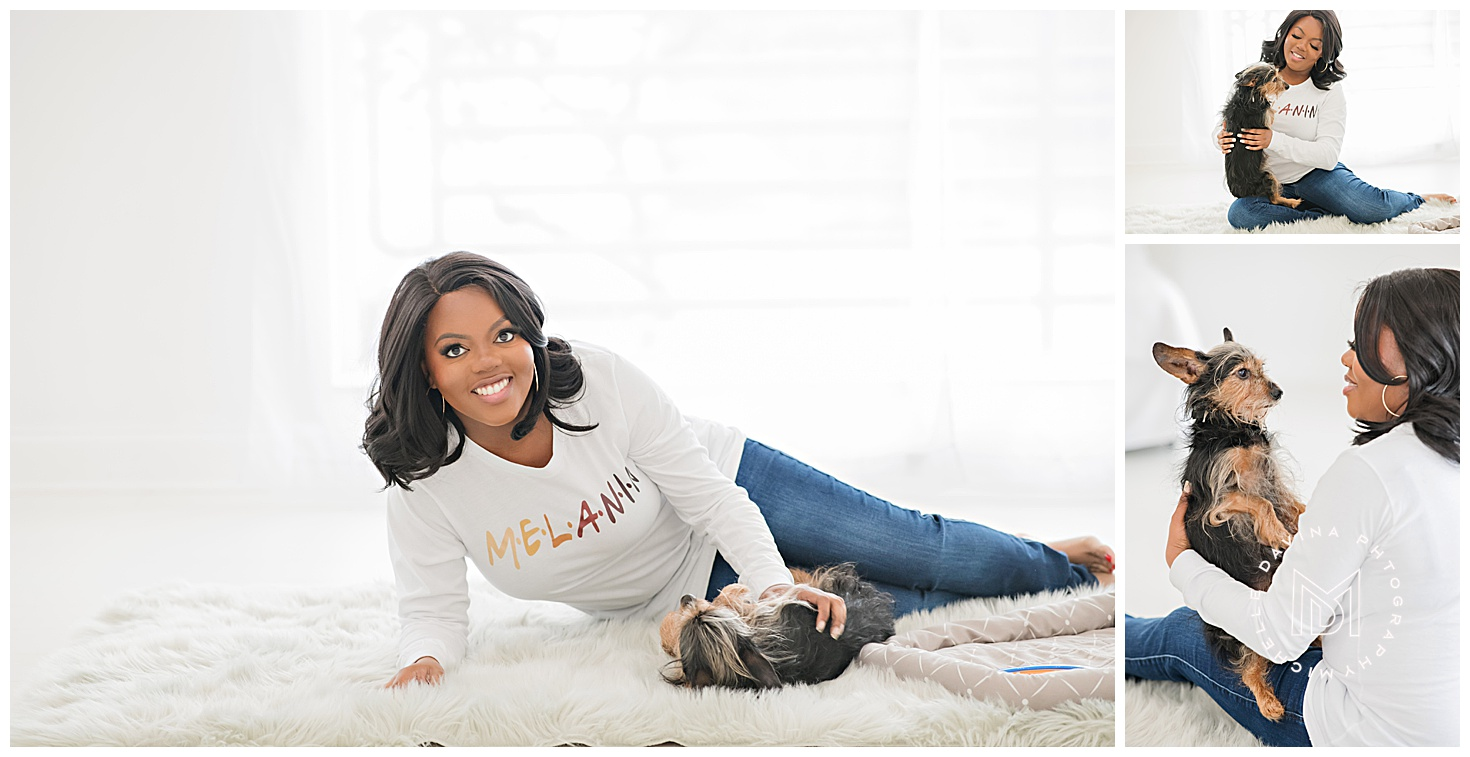 Glam on the Go
Lastly, Lena recognized the importance of self-expression and feeling confident in one's appearance. In her branding session, she introduced beauty products as part of her regimen to show nurses how they can be glamorous on the go but still maintain the real you.
Lena understands that nurses often have limited time for elaborate beauty routines, so she wanted to shared her favorite products that enable nurses to achieve a glamorous look effortlessly.
Emphasizing practicality and versatility, Lena's recommendations help nurses prioritize self-care while feeling confident in their appearance, both in and out of the workplace.
Nurse Lena's personal branding session exemplifies her commitment to empowering nurses and building a community of confident professionals.
Through her mentorship program, Lena bridges the gap between experience and aspiration, providing valuable guidance and support to nurses at all stages of their careers.
Her professional yet approachable images resonate with her audience, while her personal journey of overcoming stress and anxiety inspires others to prioritize self-care and mental well-being.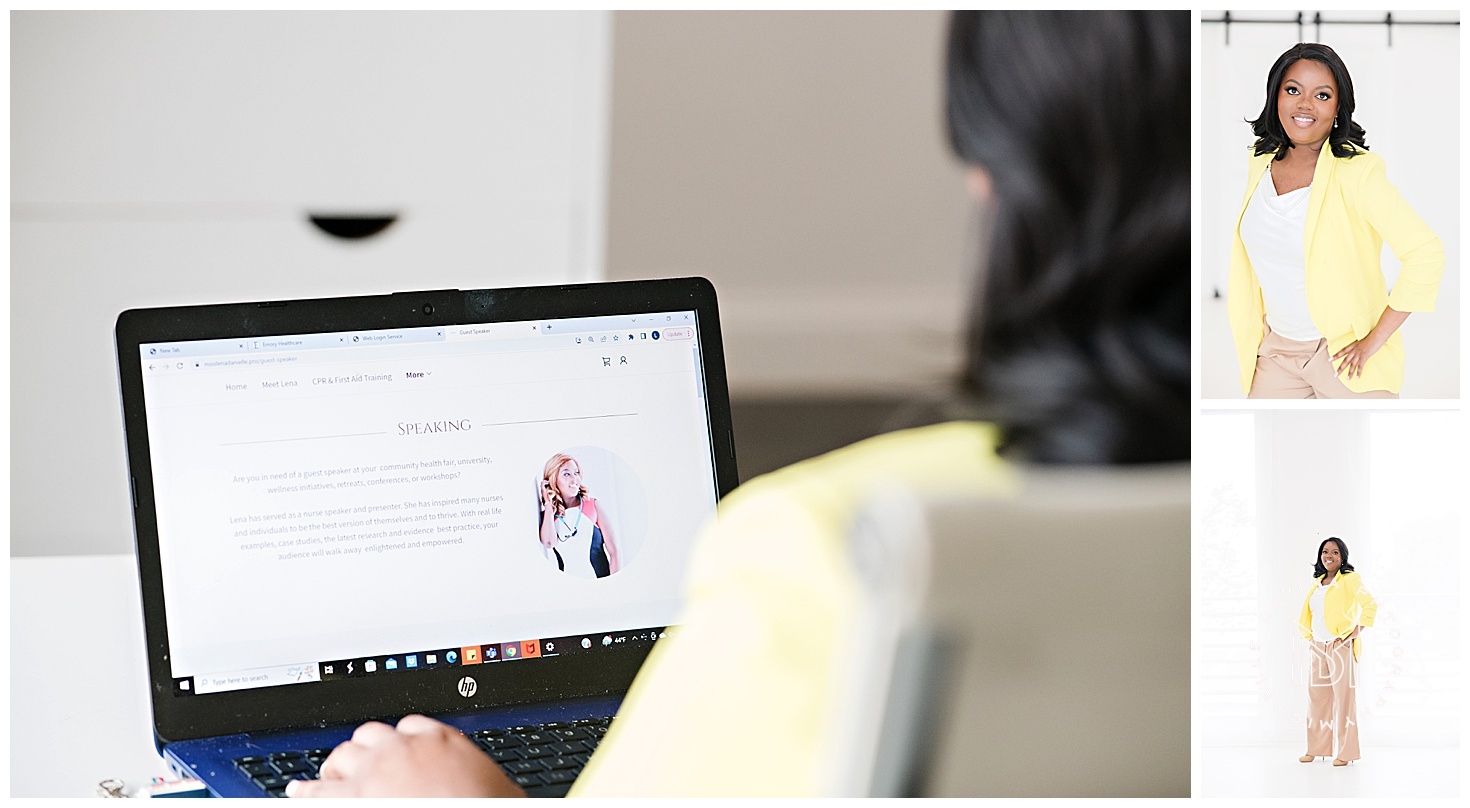 Personal Brand Journey
Nurse Lena's brand photos serves as a reminder that personal branding is not just about aesthetics; it's about sharing experiences, imparting knowledge, and fostering a supportive community.
Lena's dedication to empowering nurses and building confidence shines through in every aspect of her branding, making her an influential figure in the nursing profession.
Through Lena's personal branding journey, nurses can find inspiration, guidance, and a renewed sense of confidence as they navigate their own career paths.
Nurse Lena's approach stands out for its authenticity and commitment to empowering others and their brands. Her branding session serves as a testament to the transformative power of personal branding and the positive impact it can have on individuals and communities.
Michelle Davina Photography is an Atlanta brand photographer in Atlanta, Ga, and my business is to ensure my client images achieve their desired results. I'd loved to get you in front of my camera.
If you're interested in having your own personal branding photography shoot for your business, book a connection call today and let's chat about your brand, vision, goals and how I help you to elevate, impact, and stand out.